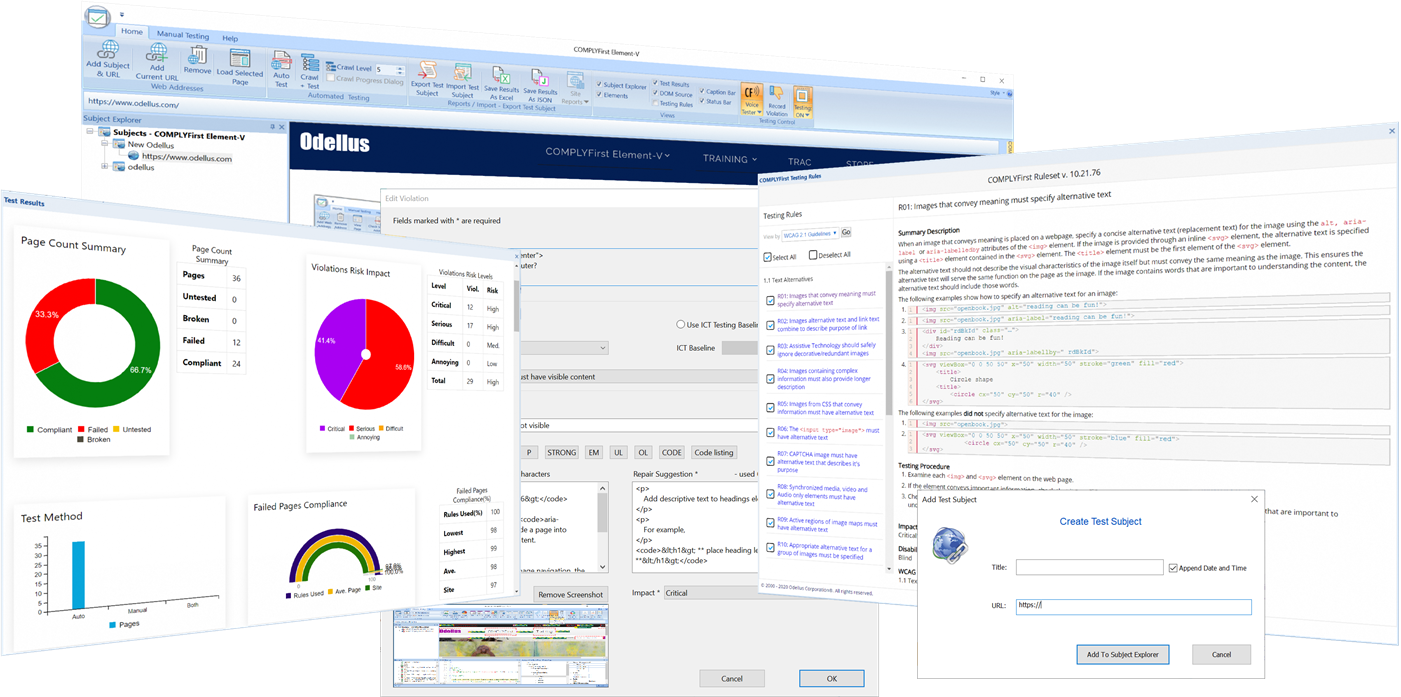 new

COMPLYFirst Element-V

for Windows 10
Section 508, WCAG 2.1, ARIA 1.1, HTML 5.2
Automated & Manual accessibility testing
Unlimited website accessibility scanning
Export results to JSON, Excel and custom formats
Store sessions locally - not a server or 'Cloud'
No extra hardware needed for unlimited scanning
Instructional Ruleset with numerous code examples
COMPLYFirst Element-V testing power has no equal!
- Easily the most effective Section 508/Accessibilty web testing tool!
First to integrate Color Contrast Analyser since 2004
First to combine automated and manual accessibility testing since 2006
First to implement automated DOM testing since 2006
First to adopt WCAG 2.0 since 2006 - before WCAG 2.0 became a W3C recommendation
Comprehensive and complete - not broken up into four or more tools
The Tester's Tool, The Developer's Tool.
Easy to use; Record test findings in-place
Automatically generate accessibility reports
Numerous manual accessibility testing components
Color contrast analyzer with foreground opacity
Audit/share any test session
Create multiple sessions on the same URL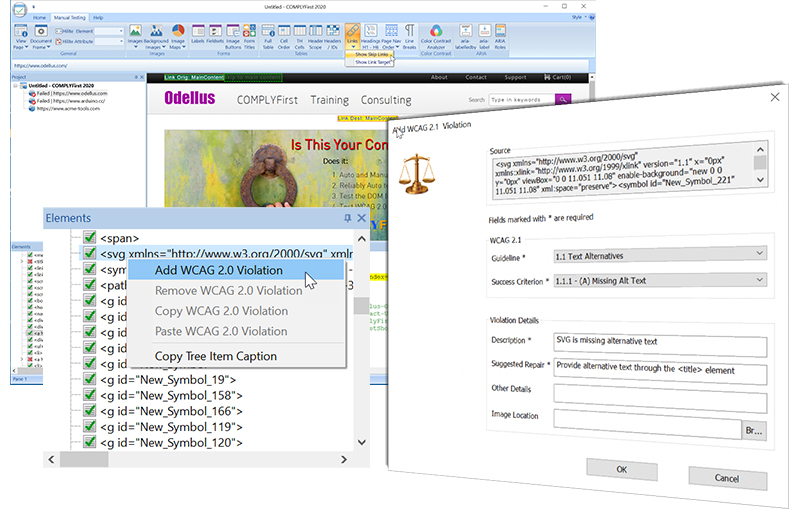 Odellus
TRAC
Testing, Remediation; Accessibility Compliance
Odellus has over 20 years' experience testing applications for accessibility compliance.
We have over 40 full-time associates dedicated to testing your applications and documents.
Dedicated 40+ testing personnel
Over 20+ years' experience testing websites for Section 508 compliance
Test and Remediate Office documents (MS Word, Excel, PDF, etc.)for Section 508 compliance
Intuitive Testing and Remediation Jobs Management Portal - TRAC Portal
Upload Your Testing / Remediation Jobs Now
Experience is Key
- let's put our experience to work for you
20+ Years Accessibility Testing Experience
Over 40 Dedicated Testing Personel
Tested 600,000+ Documents and Websites
900+ Jobs Completed Since January 2019